216.514.8411
(9am-5pm EST)
View Cart
Stars - Under The Stars Kit
https://i1.party411.com/p411/Portals/0/images/shindigz/4p274a.jpg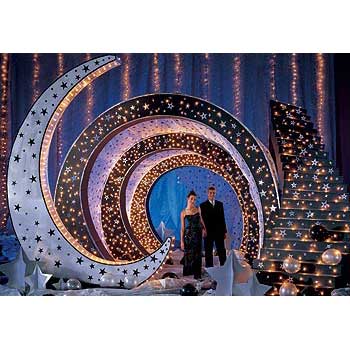 Under The Stars Tunnel Take The guests on a trip to a celestial paradise through this awe-inspiring lighted tunnel. The 11' 9" high X 14' deep cardboard tunnel sparkles with iridescent glitter, shimmering stars, and hundreds of twinkle lights. Delicate gossamer creates the filmy sections of the tunnel; you can "stretch" the gossamer to create the ideal size for your tunnel. Additional gossamer can be purchased separately to provide further length to your tunnel. Assembly required.
Under The Stars Stairway Climb the stairway to the heavens with this 11' high X 4 1/2' wide cardboard and corrugated structure. Illuminated with twinkle lights, the stairway provides a perfect focal point in your event room. For display only. Assembly required.
Under The Stars Moon Bring the heavenly light of the moon to your starry evening with this colossal 13' high X 9 1/2' wide crescent moon. Sparkling with twinkle lights, the freestanding, cardboard moon will make an ideal setting for your event photos. Assembly required.
Silver 3-D Stars Dress up corners and doorways with these three different size stars 3', 2', and 1'. Sit or suspend these stars around the event. Easy assembly.
Twinkle Stars Each sheet contains 11 stars ranging in size from 2 1/4" TO 6". Silver has 20 sheets per package. All colors have 10 sheets per package, and all colors are white on the back side.
Buy From Our Partner Site