216.514.8411
(9am-5pm EST)
View Cart
some of the party girls favorites...

Lime Green Chevron Paper Lantern



Green Paper Straws



Green Tablecover
 

Leap Day Party Water Bottle Label
 

Green Polka Dots Cone Hats



Frog Jump Game



Lime Green Activity Placemat Kit for 4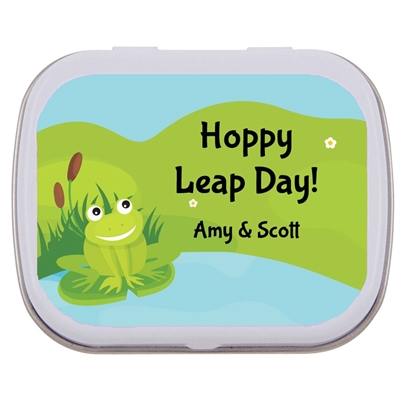 Leap Day Party Ideas: Frog Theme Party
With a Leap Year occurring only once every 4 years, shouldn't we make more of an effort to celebrate Leap Day? I, for one, always have a Leap Day party. My friends have already asked how I will be celebrating Leap Day 2016!

For me, Leap Day 2016 (celebrated on February 29th) with be a "Hoppy" Leap Day with a frog theme party. Of course any of these ideas can be used for a Leap Day Birthday party or a frog theme birthday party as well!

leap day party
Invitations
Invite your guests to have a Hoppin' Good Time at your Leap Day party. A green ticket invitation (with a matching green envelope) would work as well.
Here are some fun wording examples your can use on your leap day invitations -
Hop To It! We are celebrating Leap Day
Join us for a toad'ally awesome party!
Hop on Over for Aiden's 2nd Leap Day Birthday!
Jump for Joy! We are celebrating Liam's Leap Day Birthday
Hop Hop Hooray! It's time for Jax's Leap Day Birthday!
Get the kids involved: You can have kids help make the invitations. Cut out green lily pads from cardstock or construction paper and write all of the party details on one side. Use fun wording abd let them add a frog drawing or stickers to the other side of the invitation.
Invitations should be mailed about 4 weeks in advance of the party.  Include RSVP information, of course.  You may want to encourage your guests to wear green!
Leap Day party Decorations
And, we know you'll be thinking green for a frog theme leap day party.  Here are some simple green party decorations that you won't want to miss:
Green crepe paper - hang it from wall to wall!
Green latex balloons - place these on tables and on the floor around the room. 
Green confetti (mixed with some cute plastic frogs) - scattered on tables.
leap day table decorations
There are fun
Froggy Fun Paper Goods
that feature frogs. The
frog centerpiece
is simple and works well for this party. Or, look for a plush frog at a local party store and sit him on the center of the table.

A green party beads can serve as a napkin ring. (Your guests will take them home as a favor after the party!)
Add a few great frog theme items to your party menu to get your guests in the froggy theme:
"Frog Legs" Chicken Fingers
Green Jello
Frog Eggs (grapes)
Green Swamp Punch (7UP, Sprite or Ginger Ale mixed with lime sherbet)
Flies on a Log (celery stick smeared with peanut butter and dotted with raisins)
Sandwiches cut with a frog cookie cutter
Frog in the Mud Cups

Fill clear plastic glasses 2/3 of the way with chocolate pudding.
Mix in a few frog gummy snacks into the pudding.
Top the pudding with crushed Oreo cookies.
Add a few more gummies to the top of the cup.
Refrigerate until serving.
You can also give ordinary party foods fun froggy names -
Croaking Carrots and Ranch Dip
Lily Pad Pizza
Ribbit
Leap Day Activities
Scatter more of the multi-colored plastic frogs around the room. You can also go to a local party store or toy store and get small plastic frogs to hide around the house. Make this into a find the frog hunt for the kids. They can keep the frogs they find, or trade them in for other small prizes. Give them a jar to collect their frogs in!
Pin the fly on the Frog -  Enlarge a picture of a frog with it's tongue sticking out. Cut out small construction paper "flies" and add a piece of tape on the back of it. Just like pin the Tail on the Donkey, kids are blindfolded, spun around and try to pin the fly on the frog's tongue. You could also do this as "Pin the Frog on the Lily Pad" with smaller frogs going onto a large lily pad (and omit the blindfold). This would be a less challenging game, perfect for a young crowd.

Leap Day Time Capsule - Give out blank cards (maybe green?!) and ask guests to write where they would like to be in 4 years when Leap Day 2020 arrives. You can save these cards and mail them to your friends at the beginning of 2020 or have your guests seal them in envelopes and bring them home. Just make sure to write "DO NOT OPEN UNTIL LEAP DAY 2020" on the front of the envelopes!
Download a few frog theme songs to add to a party playlist:
The Little Green Frog
Frog Went a-Courtin'
Bein' Green (Kermit the Frog)
Five Little Frogs (Raffi)
There's a Hole in the Bottom of the Sea ("there's a frog on the branch on the log in the hole in the bottom of the sea")
You can also set out a Green Activity Placemat Kit for each child. Or have everyone play the Frog Jump Game together for a fun froggy party activity.
leap day party Favors
A Leap Day theme party favor bag is your best bet for sending home goodies from your bash.  Here are some great Leap Day favor ideas:
Gummy frogs
Green bouncy balls
Bug temporary tattoos
Wind up froggy bath toys
Green Play Doh
Green Jelly Beans
Bubbles
Have a Hoppin' Good Time at your Leap Day party!  You're guests will hardly be able to wait four years until your next party.