216.514.8411
(9am-5pm EST)
View Cart
Jungle Allure Kit
https://i1.party411.com/p411/Portals/0/images/shindigz/p0244a.jpg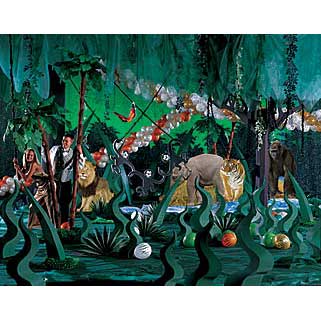 Animal Cutouts
Take your guests deep in the jungle where wild animals roam with these photo image animal cutouts. Each is on a self standing heavy corrugated form. Simple assembly required. Choose from Lion, Tiger or Gorilla.
Items cannot be shipped to APO/FPO addresses.
We're sorry, the Gorilla cutout is currently unavailable.
Jungle Monkeys
Just like in your Barrel of Monkeys as a kid, these comical creatures link arms to create a "monkey chain". Each cardboard mural monkey measures 2'. Comes in a set of three.
Jungle Butterflies
These amazing winged creatures will take your breath away with their size and gracefulness. Making a perfect addition to your jungle scene, each 25" x 20" paper butterfly adds a delicate reminder of the beauty of the jungle.
Animal Print Balloon Strands
Bring out the allure of wild animals with our animal print balloon strands. Choose either Tiger and Cheetah or Leopard and Zebra combinations, each measuring 50' long. Assembly required.
Large Jungle Palm Tree
You will receive two of these tropical palms to add shade and foliage to your mystical jungle. These realistic trees have synthetic leaves and real palm bark for the trunk. Range in height from 7' to 13'. Assembly required.
Jungle Tree Trunk with Roots
Roots flare from the base of this heavy corrugated trunk to accentuate its enormous size of 12' tall x 9' across. Assembly required.
Deep Forest Tree
These 10' tall trees add to the mystery of the forest. Gossamer shown on tree is not included, but sold separately. Assembly required.
Jungle Grasses
Add our Squiggle Grass and Large Curved Grass Blades for an extra fun jungle look. Squiggle Grass is 2', 3', and 4' and comes in sets of 6. Large Curved Grass Blades are 4', 6' and 8' tall and come in sets of 6. Assembly required.
Die-Cut Vines
Each paper section of die-cut vines is 10 ½" wide and 15" long. Attach them together for a continuous garland. Available in black, metallic gold, green or metallic silver. Black vines are no longer available.
Wild Safari Print Balloons
Guests will roar with delight for these 11" balloons! Choose Cheetah, Leopard, Zebra or Tiger.
For inside use only. Large kits require extra time for set-up, with most kits taking 2-3 hours.
Not intended for outdoor use.
Buy From Our Partner Site