216.514.8411
(9am-5pm EST)
View Cart
Custom Caricature Invitations
Click image to zoom
https://i1.party411.com/p411/images/products/caricature.jpg
https://i1.party411.com/p411/images/products/caricature.jpg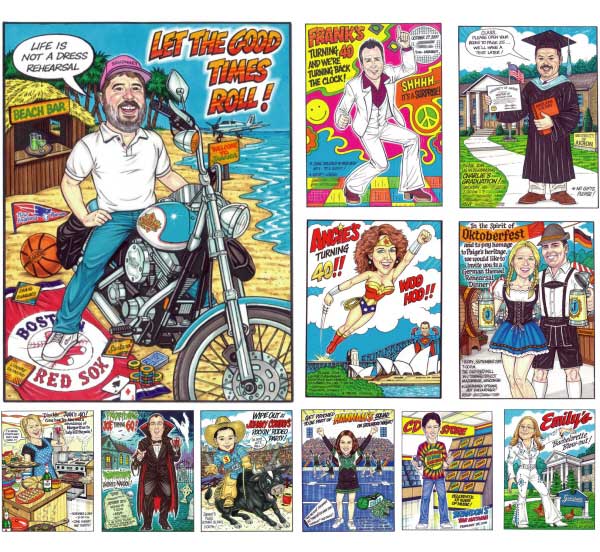 https://i1.party411.com/p411/images/products/caricature_sell_page.jpg
https://i1.party411.com/p411/images/products/caricature_sell_page.jpg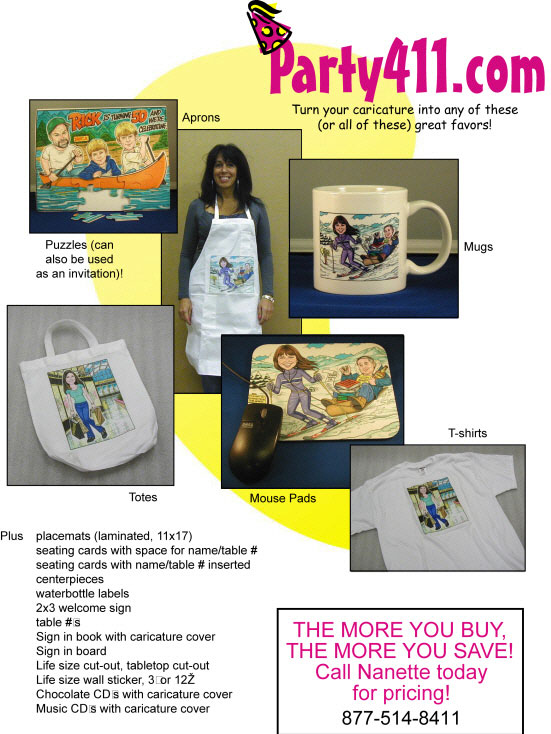 https://i1.party411.com/p411/images/products/caricature-seating-card.jpg
https://i1.party411.com/p411/images/products/caricature-seating-card.jpg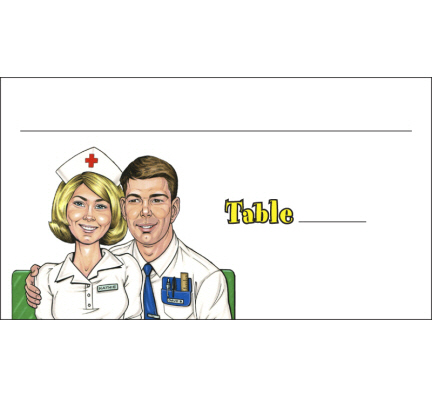 https://i1.party411.com/p411/images/products/caricaturesamples-package.jpg
https://i1.party411.com/p411/images/products/caricaturesamples-package.jpg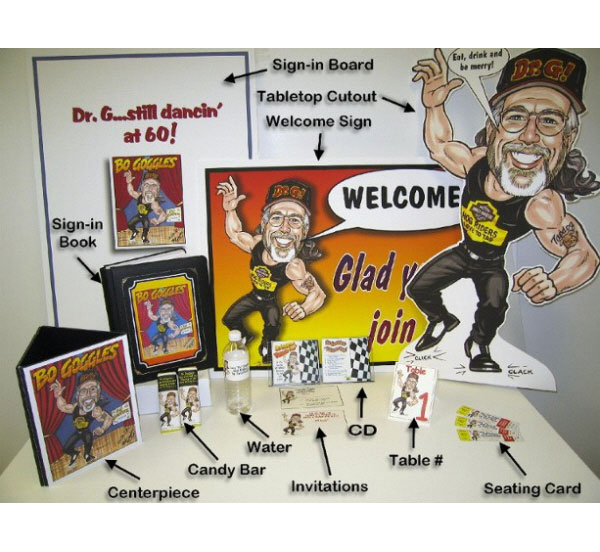 If you have questions or want to learn more about making your party truly special with a one of a kind custom caricature, please contact us at (877) 514-8411 or by email.
So you need an unusual gift that is both personal and fun. Or you need an invitation that virtually "screams" that "this party is going to be fabulous!" simply order your custom caricature today!
Once you have your caricature, you can use it for:

Invitations
Centerpieces
Seating cards
Table numbers
Cameras
Favors
Candy bar wrappers
Welcome signs
Water bottle labels
Wine bottle labels
Beer bottle labels
Thank you notes
Sign-in board
Life size cutouts, wall graphics
Buffet size cut out
CD cover and backs
Caricature Party Packages - The more you spend, the bigger the discount!

Once you have your caricature and invitations-use your caricature for any of these fun products and receive a discount on your selections. Order 3 more products and get 5% off your total order (excluding packing/handling and shipping). Order 4 or more items and save 10% off your total order (excluding packing/handling and shipping).

FAQs and How to order a caricature:
Caricatures are 8 ½" x 11" and executed on quality paper in full color. The caricature may include some words and is very graphically detailed. The base price of our caricature with one person is $150.00. For each additional person included in the caricature, there is an additional charge of $40.00. If there are many extra objects and details to be drawn, additional art charges may apply. If our review of your materials indicates that there may be an additional charge for extra detail/items, we will notify at the time you place your order.
Please note our caricatures are only available to be used for our custom product.
What do we need in order to create your original caricature?
We require a picture of the person you would like to feature, as well as specific information and details that you want included in the caricature. The artist will render a black and white draft, which will be faxed to you for a preliminary review. You can make changes to this initial sketch. A revised draft will be faxed to you again. You may make a second set of changes, if you wish. Once you return the second draft with your approval to us, it is final. If you request additional changes thereafter, we reserve the right to charge for those additional changes.
Before any art is created, we must receive your nonrefundable down payment of $125.00, payable by MasterCard, Visa or American Express.
What if I need the caricature right away?
Normal production time, which means that from the time we receive your original photograph until we are ready to ship the caricature, is about three (3) weeks. It can be longer if you take a long time to review copy or request changes. RUSH orders, meaning orders placed with less than three weeks production time to shipping date, will be charged an additional $50.00. Keep in mind, the three (3) weeks begins once we have your material in hand.
What if I need to cancel my order?
Because each caricature is drawn by hand and because of the time they take to create, a $75 drawing fee will be applied in the case of a cancellation once the artist has done a proof.
Order Information
If you would like to submit your information directly online, you can complete the form. A Party-ette will respond to you.
Caricature Inquiry Form
If have questions or want to learn more about making your party truly special, please contact us at (877) 514-8411 , or send us an
email
,