877.514.8411
(9am-5pm EST)
View Cart
some of party girl's favorites...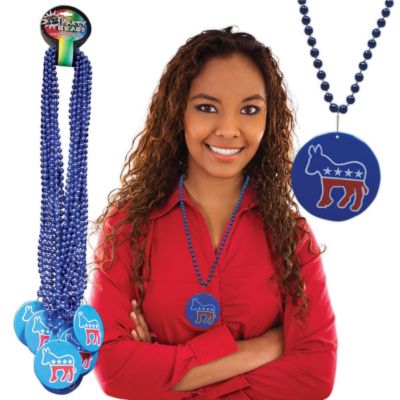 Election Party Ideas
Election theme parties can be fantastic fun! Americans love a good competition (Super Bowl, the Olympics, American Idol...) and an election is no exception.  Celebrate the primary, caucus, a fundraiser for your favorite candidate or election night itself in style. Here's how!
Send Your Election Themed Invitation
Election night can be pretty long, so you'll need to decide if you're inviting everyone over to watch all the TV coverage or just a part of the shows.  Or, throw your party during election day and have an open house for people to stop by after they have voted.
Decorate Your Home with Election Party Supplies
American Flags should be placed along the sides of the driveway and up the walkway for a grand entrance! If you're having a larger party in a ballroom, then these flags can be "planted" in red, white and blue flower pots.  Simply fill them with sand and add the flags. Democratic party symbols and Republican party symbols are great to decorate windows, walls, and mirrors. 
Make balloon bouquets with a mixture of red, white and blue latex balloons. Tie them off with red, white and blue ribbon and attach them to Red, white and blue balloon weights.
Set Your Table with Patriotic Election Paper Goods
Use patriotic paper goods, for dinner and dessert plates, cups, and red plasticware instead of washing silverware (of course). You can even use flag bandanas for dinner napkins.
Fluff and tie the bandanas and add a democrat bead necklace or republican bead necklace as a napkin ring.
Have fun with your centerpiece!  Red, white and blue floral centerpieces are always a nice choice.  Balloons are also perfect for an election night.  Using the patriotic skimmer hat  as a base, tie on red, white and blue balloons (at different heights) using red, white and blue ribbon.
Decorate your Buffet and Bar
Blue Vs. Red Drink Station - Set up a dueling drink station with red and blue drink options.
Blue Hawaii vs Cosmopolitan
Red Sangria vs Pacific Blue Sangria
Election Watch Party Ice Cream Bar - Hang a banner "Republican or Democrat, who will it be? Have a Scoop as we wait and see!" Have an ice cream bar with red and blue toppings
Hand Out Favors to Say "Thanks for coming!"