216.514.8411
(9am-5pm EST)
View Cart
some of party girl's favorites...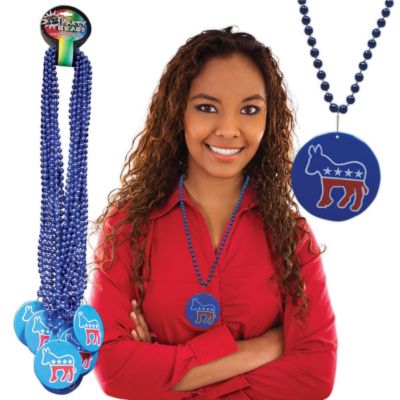 Election Party Ideas
Election theme parties can be fantastic fun! Americans love a good competition (Super Bowl, the Olympics, American Idol...) and an election is no exception.  Celebrate the primary, caucus, a fundraiser for your favorite candidate or election night itself in style. Here's how!
Send Your Election Themed Invitation
Election night can be pretty long, so you'll need to decide if you're inviting everyone over to watch all the TV coverage or just a part of the shows.  Or, throw your party during election day and have an open house for people to stop by after they have voted.
Decorate Your Home with Election Party Supplies
American Flags should be placed along the sides of the driveway and up the walkway for a grand entrance! If you're having a larger party in a ballroom, then these flags can be "planted" in red, white and blue flower pots.  Simply fill them with sand and add the flags.
Democratic party symbols and Republican party symbols are great to decorate windows, walls, and mirrors. 
Make balloon bouquets with a mixture of red, white and blue latex balloons. Tie them off with red, white and blue ribbon and attach them to Red, white and blue balloon weights.
Set up a tally board or ballot box near the front where guests can guess who they think will win!
Set Your Table with Patriotic Election Paper Goods
Use patriotic paper goods, for dinner and dessert plates, cups, and red plastic ware instead of washing silverware (of course). You can even use flag bandanas for dinner napkins.
Fluff and tie the bandanas and add a democrat bead necklace or republican bead necklace as a napkin ring.
Have fun with your centerpiece!  Red, white and blue floral centerpieces are always a nice choice.  Balloons are also perfect for an election night.  Using the patriotic skimmer hat  as a base, tie on red, white and blue balloons (at different heights) using red, white and blue ribbon.
Decorate your Buffet and Bar
Fun Ideas for Election Night Food Stations
Trump Taco Bar with banner "I love Hispanics", make sure to offer the Benghazi Burrito
Chili Hillary Bar - Warm up with a chili and toppings bar, lots of shredded cheese, sour cream, Fritos, limes, avocado, onions, scallions, hot sauce, corn bread etc
Vegan Veggie Tray (since Bill is vegan) with a hummus dip
Watch the Candidates WAFFLE BAR - premade Belgian waffles or break out the waffle maker, lay out plenty of toppings
Blue Vs. Red Drink Station - Set up a dueling drink station with red and blue drink options.
Blue Hawaii vs Cosmopolitan
Red Sangria vs Pacific Blue Sangria
Election Watch Party Ice Cream Bar - Hang a banner "Republican or Democrat, who will it be? Have a Scoop as we wait and see!" Have an ice cream bar with red and blue toppings.
election night party games
Have a bit of fun with this circus and have a few party games -
Buzzword Bingo
Make up some bingo cards with political jargon and when you hear it said on tv you can mark your square.
Election Night Drinking Game
One Sip for
Every pundit on a split screen.
Time someone says "270".
Time someone says "Undecideds".
Someone manipulating a giant touch-screen map.
Every person not wearing a flag pin.
One Drink for
Every time the words "Benghazi" or "email" are uttered.
When any state is "still too close to call."
Any reporter who says "standing by".
When a state has polls closing.
Two Drinks if
Giant touch-screen map malfunctions.
"Unbiased" anchor looks upset by results.
They play a clip of Trump and he refers to himself in the third person.
They show a candidate's spouse.
Finish Your Beer when
An anchor awkwardly fills in time due to technical mishap.
Somebody blames Bush.
Camera cuts away to someone not paying attention.
Exit polls are even (ie 50% and 50%).
Do a Shot
When results are official in your state.
When you see confetti.
Hand Out Favors to Say "Thanks for coming!"